News Archive on Hydraulics Presses
The latest and greatest, plus our past news and articles.
---
November 27, 2023
Ensuring Precision and Safety with C-Frame Hydraulic Press
In the dynamic landscape of industrial machinery, the C-frame hydraulic press stands as a formidable force, powering manufacturing processes with unparalleled precision.
October 12, 2023
The Ultimate Guide to Safe Hydraulic Press Operations
Safety beacon is the Z142 standard, a guiding light for ensuring the safe operation of hydraulic presses. In this concise guide, we'll provide a brief yet insightful overview of the key elements of the Z142 standards.
August 16, 2023
Ensuring Hydraulic Safety: A Comprehensive Guide to OSHA Guideline
Hydraulic systems are indispensable in a wide array of industries, from construction and manufacturing to agriculture and transportation, enabling efficient tasks through the utilization of pressurized fluid power.
June 12, 2023
The Synergy of Hydraulic Presses and Air Compressor
In the world of industrial machinery, two powerful technologies, hydraulic presses and air compressors, come together to create a remarkable synergy.
June 6, 2023
Ensuring Operator Safety with Z142
Ensuring Operator Safety with CSA Z142 Press Safety Standards
June 2, 2023
Elements of Z142 Safety Standards:
In today's rapidly evolving industrial landscape, ensuring workplace safety has become paramount.
May 15, 2023
Essential to follow the industry standards, such as the Z142
Hydraulic presses are powerful machines used in various industries for tasks such as metal forming, molding, and assembly. While they offer incredible efficiency and productivity, prioritizing safety is crucial when using hydraulic presses. To make a safe working environment, it is essential to follow the industry standards, such as the Z142 safety standards.
April 18, 2023
Roll-In Hydraulic Press: The Industrial Solution for Metalworking
One of the most important tools in the metalworking industry is the hydraulic press. Hydraulic presses come in various forms
April 5, 2023
Causes of Failure in Hydraulic Press Systems: Common Problems
Hydraulic press systems are critical in various industries for manufacturing, stamping, and pressing operations. These systems rely on hydraulic fluid and a mechanical press to generate high forces, making them essential for many industrial processes. However, they can also fail due to various reasons, which can cause significant problems in terms of productivity, safety, and equipment damage. In this article, we will discuss some of the common causes of hydraulic press system failure and how to prevent them.
March 29, 2023
Understanding the Benefits of a C Frame Press
C frame presses are a powerful and versatile tool used in a wide range of manufacturing processes. They are ideal for various operations, including bending, punching, and stamping, and offer numerous advantages over other types of presses.
March 24, 2023
Custom Hydraulic Presses for Your Specific Needs
Hydraulic presses are versatile machines used in a wide range of industrial applications, from stamping and forming to bending and shearing. Two common types of hydraulic presses are the H-Frame press and the C-Frame press. While both types serve similar purposes, they have distinct differences in terms of design, capacity, and suitability for certain applications. If you're in the market for a custom hydraulic press, it's important to understand the differences between these two types and which one is best suited for your specific needs. In this article, we'll explore the differences between H-Frame and C-Frame hydraulic presses, and how RK Machinery, a world leader in the manufacturing of hydraulic presses, can design and build a custom solution that meets your exact requirements.
February 14, 2023
Programmable Hydraulic Test Press
Technology has advanced in all sectors. Nowadays, manufacturers are designing automatic hydraulic presses which are programmable.
August 23, 2022
The Programmable Hydraulic Test Press: What You Need to Know
Many lab-quality automatic hydraulic presses are now programmable,
February 29, 2020
Press Brake or Metal Former
Understanding why press brake is called press-brake and not metal former, or sheet metal bender can be quite complicated.
January 21, 2020
The Benefits of the RK Machinery Roll-in Table Press
A good roll-in table press will not only provide the best personal features, but they will also be able to do it at a competitive price.
July 5, 2019
C-Frame Presses That Have Safety Light Curtains
RK Machinery was established in 1980 with the aim of building products that are reliable, safe and of the best quality.
December 14, 2018
5 Tips to a Prosperous 2019 for Your Machine Shop
New Year's resolutions on every machine shop list are more clients and greater profits. The best approach is to bring in new customers and get more work from your current clients.
November 7, 2018
The New RK Machinery Gantry Straightening Press 100 ton 2x8
Save Time and Expand Functionality with the New RK Machinery Gantry Straightening Press, 100 ton, 2 feet x 8 feet
September 17, 2018
Want to Improve Safety and Boost Productivity and Profits?
You can increase operator safety, boost production and save money when you invest in the right hydraulic press.
September 4, 2018
When to Get a New Hydraulic Press
Investing in a new hydraulic press is a big decision for any machine shop, large or small. Like every owner, you want to get the greatest possible use out of the presses you already have.
August 19, 2018
Increase Your Market by Taking on Jobs Your Competition Can't
Wondering if you can justify the cost of a custom hydraulic press? Consider this: when you have a press adapted to your exact needs, you can go after unusual jobs that other machine shops aren't able to fulfill.
August 2, 2018
5 Reasons Why Customizing Your Hydraulic Press Is Worth the Money
Hydraulic presses are the mainstay of modern machine shops. These workhorses are known for their versatility. But sometimes you need your press to accomplish a very specific primary function.
March 16, 2018
Bypass Burnout with These Tips for Machine Shop Owners
Running your own machine shop is a dream come true for many machinists, designers, managers, and people who simply love working with tools and hydraulic presses.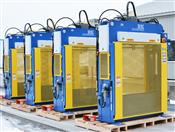 February 1, 2018
RK Machinery Offers CSA Z142 Press Safety Standards on H Frame
Press safety is a top concern in every shop. At RK Machinery, a leader in hydraulic worker safety, is proud to announce that its H-Frame press are available with the CSA Z142 standards.
January 17, 2018
Increase Efficiency and Profits with a Modern Hydraulic Press
The newest hydraulic presses are marvels of technology, versatile, cost-effective and precise. When you invest in a new press, you can reduce operating costs, lower material waste and get the job through the shop faster.
June 14, 2017
Hydraulic Press Safety in Your Shop
Hydraulic presses produce power, useful for fabricating any number of tools, prototypes and components. But the power that makes them so essential for industry can also cause problems for operators. That's why RK Machinery builds safety into every machine.
May 16, 2017
The Village Smithy Now Uses the Hydraulic Press
Today's blacksmith is quite possibly located his shop under a big tree in a rural location, just like the one in the poem. But he uses the internet to find his customers, all over the country.
February 27, 2017
Take a Look at the Many Advantages of the 4-Post Hydraulic Press
Are heavy-duty jobs the mainstay of your busy machine shop? Then you need to take a look at the advantages of the 4-post hydraulic press. This workhorse is dependable, able to handle continuous production with accuracy and reliability.
February 3, 2017
A Customized Hydraulic Press Can Boost Your Bottom Line
Hydraulic presses are the workhorses in machine shops all over North America. They help factories keep their equipment operating, engineers develop specific components and inventors come up with next-generation tools.
August 24, 2016
5 Easy Tips to Increase Business in Your Machine Shop
Small machine shops are usually run by people who understand how to mill, grind, press and assorted other processes. But they often don't know how to run a business.
April 17, 2016
The Hydraulic Press Channel Gets Rave Reviews
Lauri Vuohensilta, a competitive power lifter and small business owner in Finland, squashes stuff in a 100-ton hydraulic press at his family's workshop. Just for fun.
March 24, 2016
Should You Buy a New Hydraulic Press, Rebuild It or Retrofit It?
Should You Buy a New Hydraulic Press, Rebuild It or Retrofit It? Money drives commerce, but it's not wise to spread it around too freely. The more work you can get from your current presses, the less money you need to shell out on new equipment. But it can be difficult to decide what is most cost-effective for your machine shop: retrofit, rebuild, or buy new?
March 1, 2016
Announcing the New 12-Ton C-Frame Press
RK Machinery is proud to announce the newest addition to its line of hydraulic presses, the 12-ton C-frame press. This is the lighter version of our popular 25-ton C-frame press.
November 26, 2015
Hydraulic Capacities
From 25 tons to 350 tons, we have you covered. We are an industry leader and have been for decades. At RK Machinery, we take enormous pride in our reputation for producing the finest hydraulic presses in North America.
October 6, 2015
Maintaining Your Hydraulic Press
The oil in your hydraulic press is the lifeblood of the equipment. Just like your car, it needs regular maintenance. Without clean oil in the proper amounts, your press won't run right and it will have a much shorter lifespan.
August 20, 2015
Cost and Quality: Getting the Most Out of Your Hydraulic Press
Hydraulic presses are expensive, a major part of the budget for machine shops of every size. But choosing the press by lowest cost can end up costing you more in the long term.
July 9, 2015
Commonly Used Industrial Hydraulic Press
The industrial hydraulic press is the workhorse in any machine shop. But there isn't just one. These versatile machines come in several varieties, each suited for specific types of jobs.
June 17, 2015
An Overview of Canadian and U.S. Safety Regulations
The laws vary in each country, province, state and territory. Here is a look at where you can find out the rules that apply to your shop. To design your own safety program, with the aim to both stay in compliance and to keep workers safe, there are links to the programs in effect at several machine shops, plus a forum to get more information.
June 12, 2015
Don't Grind to a Halt: Start a Machine Shop
In Canada, the demographic that is producing the most new entrepreneurs is the over-50 crowd, making up 30% of new startups. In the U.S. it's a full 25% of new businesses, and this has been the trend since 1996.
May 20, 2015
Machine Shop Apps That Make Work Easier
There's an app for everything these days, and that includes machine shop chores. Here is a look at five apps that can make life a little easier.
May 6, 2015
Hydraulic Table Press
Small shops need machinery that can handle big jobs, but have very little space to put them in. It's the RK Machinery HFP-25 Table Press to the rescue.
April 27, 2015
RK Machinery Announces It New Wireless Remote
RK Machinery is proud to present its new handheld, wireless remote, available for the Gantry Straightening Press, Straightening Press and other models.
March 24, 2015
Preventive Maintenance for C-Frame Hydraulic Presses
Hydraulic presses are workhorses in a machine shop. You can keep them in fighting trim with regular upkeep, adding years to their usable lifespan and reduces downtime for repairs.
February 18, 2015
New hydraulic straightening presses
RK Machinery has launched its new line of hydraulic straightening presses, with efficiency, ease of use and the comfort of your operators built in.
February 2, 2015
The Versatile, Artistic Hydraulic Press
Industrial uses for hydraulic presses involve forging, molding, punching, metal fabricating, blanking and clinching. In the midst of all this trade jargon, a machinist can lose sight of the real beauty of this machine.
November 24, 2014
10 Fascinating Facts about Hydraulics
Hydraulic presses were patented in 1795, eventually replacing the steam hammer in the metal forge industry. The technology has certainly evolved since then.
November 5, 2014
Tips for buying the best Hydraulic Press
Whether you own a machine shop or happen to be an independent contractor, people will have different reasons for owning a hydraulic press. There are some key factors that you will look for when it comes to choosing a straightening press, or an H frame press and if you are not sure what to look for, you could end up with something that requires more repair work then it happens to be worth. Here are some simple tips that will help you create a better shop, or find the right press to suit your needs:
October 23, 2014
Every Garage Should Have a Hydraulic Bearing Press
The benefits of using a hydraulic bearing press are multitudinous, too many to list in this short article, but every shop or garage should have one.
October 10, 2014
Custom Hydraulic Presses to Meet Those Special Situations
As the demand for machines that are capable of meeting the needs of today's modern metal forming designs increases, the need for custom hydraulic presses increase in direct correspondence with those demands.
September 18, 2014
Contamination in a hydraulic fluid system
Downtime costs money. Replacing damaged equipment can be even more expensive. Both are the direct result of contamination in a hydraulic fluid system.
September 3, 2014
Shop Presses don't be pressed to save money
When running a business of any kind you want to cut costs where you can, in order save money on overhead for your company.
July 31, 2014
150 ton press
Having the right equipment in a shop means that the job will get done correctly, accurately and precise. This can be anything from shop equipment to car parts, and the better they are built the longer they will last.
July 10, 2014
Hydraulic Press Types
There are multitudinous types of hydraulic presses, with each having its distinctive applications here is a list of presses that are found in shops around the world.
July 1, 2014
Vertical Baler Hydraulic Press
Recycling is a huge responsibility for many manufacturing and machining businesses today. Other businesses like retailers and restaurants can also benefit from recycling packaging waste as well.
June 22, 2014
Common cause of hydraulic system overheating
The second most common cause of hydraulic system failure or malfunction is system overheating. The top cause of failure and malfunction is the existence of leaks. In order to engage the mechanical deficiencies associated with a malfunction, you must first understand the dynamic involved. When it comes to leaks the dynamic is extremely simple, making it is easy to understand and address.
June 18, 2014
Reasons To Upgrade Mechanical Press Operations To Hydraulics
Investing in your machine shop business is important and includes several aspects of workplace maintenance, especially when it comes to the machinery. In today's economic circumstances, more and more business owners are cutting corners in every way possible, many of them using outdated machinery and technology for saving money.
June 12, 2014
The Importance Of Choosing High Quality Hydraulic Press Fluid
The hydraulic press you purchase at RK Machinery will be one manufactured using the highest standards for quality and expert craftsmanship. However, once you get your press in your shop, the maintenance you provide determines how long you will be able to enjoy the benefits of a high quality hydraulic press.
May 31, 2014
How To Choose The Best Hydraulic Press For Your Needs
Several types of hydraulic presses are available for manufacturers to choose from, so knowing which one would benefit you the most is important to decide before making a final choice.
May 24, 2014
Hydraulic Press Distributor Receives Shipment of Presses
Recently, in April, RK Machinery shipped 11 C Frame presses to distributors in the USA.
May 15, 2014
6 Tips For Avoiding Injury During Hydraulic Press Operation
The safest operation of hydraulic presses is essential to avoid serious injury.
April 30, 2014
Hydraulic Press Safety
Hydraulic presses can be dangerous and have even been touted as being the most dangerous in some manufacturing settings.
April 23, 2014
Precision Metalworking Is Easier With A Broach Press
Manufacturing small, detailed parts can be one of the greatest ways to profit in the metalworking business due to the expertise necessary for doing so. Some smaller shops are making it big in the world of metalworking thanks to using innovative, up to date machinery like broach presses.
April 21, 2014
Choosing A Hydraulic Straightening Press
The technology behind the gantry press goes back years ago, but the gantry straightening presses of today are greater and offer much more than simply straightening metal.
April 9, 2014
Should you Build or buy a hydraulic shop press
Many details go into the construction of hydraulic presses, even more so when a press is built to last.
April 4, 2014
It's time to replace your hydraulic press when
When a hydraulic press does not reach its appropriate pressure in time or it is making odd noises, you may have some problems that would mean it is time for a new press.
April 2, 2014
Cheap hydraulic press
Cheap hydraulic press, are they really worth it? When it comes to making the right choices about the machines you use in your business, choosing cheap, low quality machines and parts can be a serious mistake.
March 28, 2014
5 Tips For Maintaining Your Hydraulic Press
Companies that use machinery every day must keep an effective and efficient maintenance schedule to avoid down time that could slow down or stop production.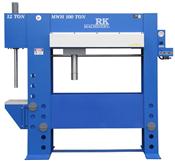 November 18, 2013
What-to-Know Before you buy A Hydraulic Broach Press
Broaching is a very common machining technique crucial to the manufacture of a huge array of products.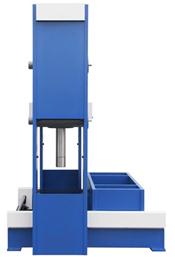 October 16, 2013
Tips for Machinists: Working Metal with a Hydraulic Press
Hydraulic presses are used much more than you may realize. Pretty much every machine shop will have one on the floor as they are used to form and shape metal.
September 18, 2013
5 Tips to Getting the Best Hydraulic Press
Hydraulic press technology determines their ability to meet the demands with quality work with precision. Choosing the right hydraulic press will really depend on your production line processes.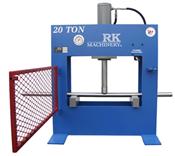 July 19, 2013
Stay Safe Using Hydraulic Presses
Operating any machinery has its risks and safety concerns and shop presses are no exception.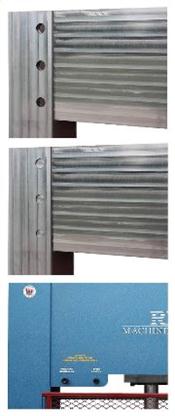 June 11, 2013
Machining Made Easy with Hydraulic Presses
The machining process has been around for ages with simple tools and techniques dominating this intriguing metal working process.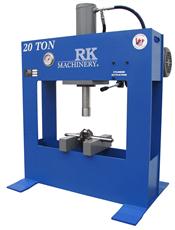 May 22, 2013
Working with metal
Hydraulic press technology has commonly been used in the molding, stamping, bending and crushing of metal.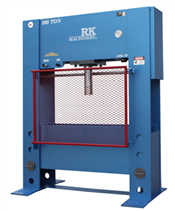 April 24, 2013
Hydraulic Press Operator Safety
It is important that these potentially dangerous and powerful machines be operated and manipulated with immense caution and care.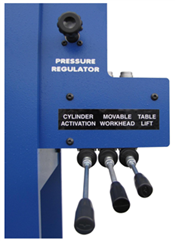 March 27, 2013
What's Ailing Your Hydraulic Press?
Long-term usage does take its toll on hydraulic machines. Common problems experienced are discussed below.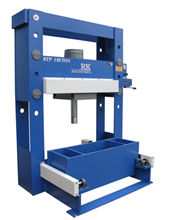 February 21, 2013
Hydraulic Presses: The Merits
Invented in the late 1700s, the hydraulic press has been used to mold, compress, crush, and shape metallic objects for many years.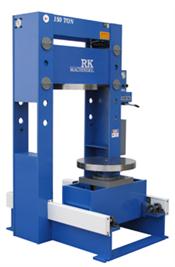 January 23, 2013
Easy To Use Forklift Tire Press
When carrying out the regular maintenance of your forklift, it is always important that you check the tires.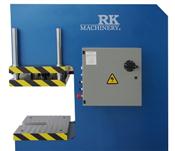 November 22, 2012
What do you use your hydraulic press for?
Simple to use, cost effective, super reliable, efficient, powerful and durable—what's not to like about a hydraulic press?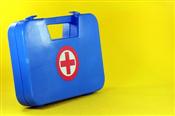 October 24, 2012
Cutting down on workplace accidents
Workplace accidents are some of the most costly yet avoidable situations.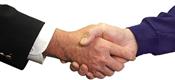 September 21, 2012
5 tips to help you grow your metal shop's business
Although it's never been easy for small and medium sized metalwork shops to make ends meet...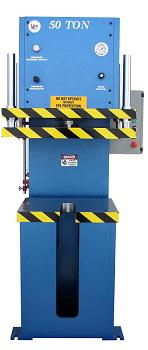 August 31, 2012
Two reasons for buying a NEW hydraulic press
The wonderful thing about post recession for small and medium metalworking shops...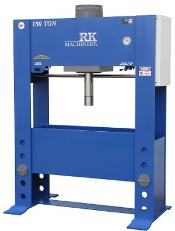 July 30, 2012
Making Headway Across a New Manufacturing Landscape
So the Great Recession is over, right? Now we can all get bad to normal, right?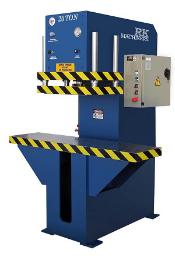 April 4, 2012
Three ways to keep productivity up and costs down
North American manufacturing continues to improve as we head into the second quarter of 2012...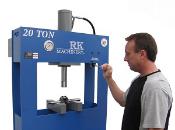 March 12, 2012
The right hydraulic press will help you retain your customers
Is there any worse feeling than letting a customer down by failing to deliver on time?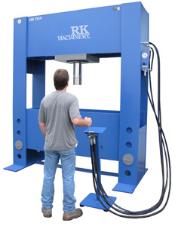 February 1, 2012
Improve your manufacturing process with a new hydraulic press
Despite a horrendous three years, Japanese automaker Toyota was just about back to full production by mid January of 2012.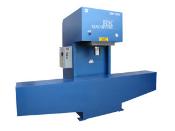 January 9, 2012
It's a Happy New Year for manufacturing in North America
It has taken longer than expected, but North America's manufacturing sector is finally on a concerted upswing.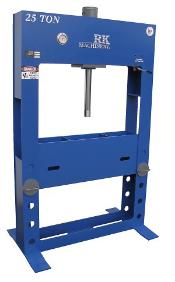 December 7, 2011
Hydraulic presses and testing in welding applications
Practical training of welding students involves a variety of destructive testing pactices.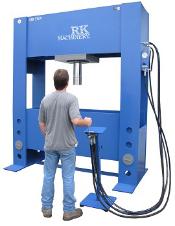 November 3, 2011
Hydraulic Press 101
Power presses come in a variety of forms—pneumatic, mechanical or hydraulic.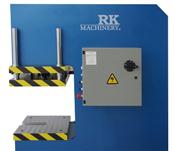 October 21, 2011
How to go about purchasing your first hydraulic press
Maybe you're starting a new metalworking company, or maybe you're a new manager at an existing one. Chances are, at some point you will need to purchase a new press.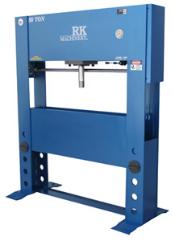 October 5, 2011
A heavy hitter in the press manufacturer business
Most hydraulic presses share a number of capabilities that ensure the machines are a powerful and versatile addition to any machine shop or factory floor.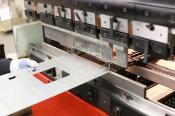 September 21, 2011
The flexibility of hydraulic presses
Crash test safety standards for automobiles are constantly being monitored and adjusted—usually to more stringent levels. This is especially so for the parts of a vehicle that are likely to come under the most stress in an accident or collision—parts such as side-impact bars, front and rear fender beams, pillars, sill plates and roof seams. At the same time, automakers are always striving to reduce the weight of auto components for a variety of reasons, not least of which is the ongoing quest to achieve improved fuel economy.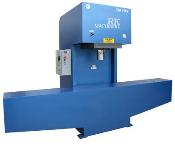 September 7, 2011
Why it's best to shop at home for your key machines
The competitive gap between Asia and North America is closer today than it has been for a while. The recent Great Recession, increases in energy costs and, by extension, higher costs for shipping have all contributed to the Chinese and other Asian economies not being as cheap an option as they were a couple of years ago.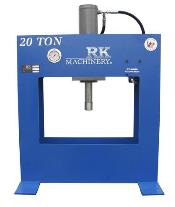 August 24, 2011
New entry-level H-Frame press now available
RK Machinery's tag line is "We build them your way," and the Quebec, Canada based company has just launched it's latest H-Frame hydraulic press. Now there's a bench-model machine available that makes owning a quality H-Frame press affordable for every company - large or small.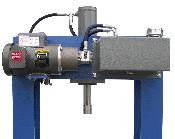 August 12, 2011
The High Cost of Low Quality Machinery
If you're in the maintenance department of any type of industry, you know that owning top quality equipment is vital if you want everything to run smoothly.
July 22, 2011
Don't just do it, do it right!
A U.S. company has just been fined almost $100,000 following a January workplace incident in which an employee lost three fingers while operating a hydraulic brake press.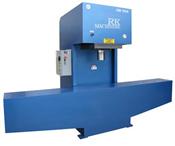 June 28, 2011
RK Machinery presses ahead with custom build
RK Machinery is proud to announce the launch of a 350-ton straightening press. The 350-ton straightening press features a remote power-pac, hydraulic controls on a moveable pedestal and an 18" x 144" work table.
May 2, 2011
Safeguarding powerful and efficient equipment
Hydraulic presses are used in many industries to shear, form or punch metal or other materials. There are a variety of hydraulic presses (e.g.: Hydraulic press brakes, H-frame and C-frame press) that execute numerous tasks.
March 12, 2011
Hydraulic press: A press that uses fluid pressure
Hydraulic presses and press brakes are used on a daily basis to manufacture everything from jewellery to automobiles. Depending on the material that is used, and this matter's tensile strength, amongst other factors, the hydraulic machine will be used to press, bend and form the pieces.
February 7, 2011
Workplace safety - operator safety
The Canadian Centre for Occupational Health and Safety (CCOHS) has a goal: to eliminate work-related injuries, illnesses and fatalities. By providing information, training, education, management systems and solutions to support health, safety and wellness programs, the CCOHS (its American equivalent being OSHA), seeks to improve workplace health and safety programs and the prevention of injury and illness.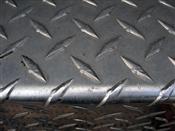 January 21, 2011
From fire to press brakes
Metalworking has been described as an art form, a hobby, a trade and an industry. Hydraulic equipment such as press brakes and c-frame presses are used to shape, bend and cut metals into the necessary parts for building and manufacturing purposes. Although the specific details relating to the history of metalworking are obscure, what IS known is that it is when humans associated fire and metal that metalworking significantly evolved.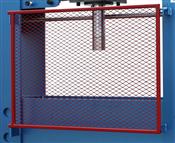 November 9, 2010
Hydraulic Press Operator Safety
Although accidents may occur anywhere, sitting behind a desk writing an article for the local newspaper is likely less dangerous than operating a hydraulic press. Integrating simple precautions and safe guards in your manufacturing and production operations, all machine operators will be safer and more productive.
October 7, 2010
The priority when selecting a hydraulic press
When it comes to machine guarding, the OSHA states the following: "Moving parts have the potential to cause severe workplace injuries, such as crushed fingers or hands, amputations, burns, or blindness. Safeguards are essential for protecting workers from these preventable injuries. Any machine part, function, or process that may cause injury must be safeguarded." [1] When the operation of a machine may cause injury to the operator, or to bystanders, the hazards must be eliminated or controlled.
September 14, 2010
Bending metal thanks to ductility and press brakes
As you take on your daily commute equipped with your faithful thermos full of coffee, it occurs to you that this metal thermos is perfectly round and sits flawlessly in the cup holder of your car. You begin to wonder how does a piece of metal go from just that, a piece, a sheet, or whatever initial form it was in, to be made into a perfectly cylindrical shaped product that will hold your morning coffee.
August 8, 2010
Goal of our new website:
The decision to redesign our website was based on customer feedback and their requests for us to provide more detailed information on our various hydraulic presses. We felt the best way to showcase our hydraulic presses was by taking a visual approach.